Driving 30 miles south of Albany, GA., past fields of peanuts, corn, and cotton, you turn on to a road of red Georgia clay. Drive a couple of miles down this road and all of the scenes are those that you would expect to find in rural Southwest Georgia. Then you round a bend in the road and see what some have called Shangri-La… acres and acres of Muscadine vines (also known as Scuppernongs and Swamp Grapes) and the unexpected discovery of Still Pond Distillers.
Over 130 years ago, during the height of the Civil War, the discovery was just as exciting. Sitting on the banks of an isolated pond was a still, turning out peach brandy to provide comfort, relaxation, and escape for exhausted Confederate soldiers…thus the name Still Pond.
Through the years, the legend of Still Pond was enhanced by other proprietors of the still. Still Pond Vineyard owner Charles Cowart remembers, " When I was growing up the Hunt brothers lived here and were known for the spirits they produced. Dad used to pick them up and bring them home. He told about finding one of them under a pine tree one morning with frost on his beard. Evidently the croaker sack of liquor had been sampled too liberally during deliveries and he did not make it home."
The Legend Continues…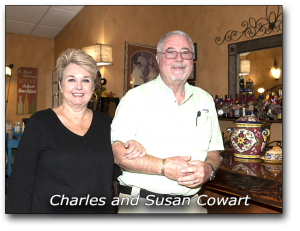 Today, the Legend of Still Pond continues, but with a much more legitimate (and legal!) direction. Charlie Cowart Sr. started over 45 years ago by planting a few Muscadines, a grape variety native to the South… Still Pond Vineyard was born. The vineyard did well and Charlie Sr, along with his wife Peggy continued to expand the vineyard with additional plantings each year.
After the deaths of the elder Cowarts', son Charles and his wife Susan took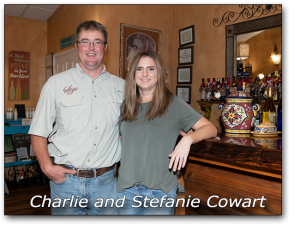 over the operation of Still Pond. In 2003 Still Pond Winery was started as one of the first wineries in South Georgia. In 2003 Charles' and Susan's son Charlie returned to the family business after graduating college. In 2012 Still Pond Distillers was established as Calhoun County's first Craft Distillery.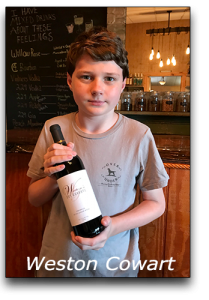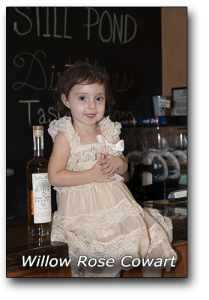 Currently Still Pond Vineyard Winery and Distillery is a true family business operated by Charles', Susan, Charlie and Stefanie Cowart with their children, Weston and Willow Rose.